Amazon Cherry Smoothie Recipe
"Your source to find and share reviews and recipes!"
This acai amazon cherry smoothie is a perfect boost of vitamin C and antioxidants!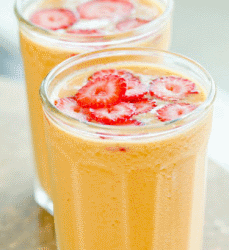 Ingredients
2 Sambazon Amazon Cherry smoothie packs
1 organic banana
1 handful of organic strawberries
4oz of plain yogurt
8oz of organic apple juice
Method
Add Amazon Cherry Smoothie Packs, yogurt, berries and banana into blender.
Blend on high. Add more yogurt if necessary- but keep it thick.
Pour into a glass and serve.
This recipe is from Sambazon.com.
This superfood is a great disease-fighting antioxidant that provides a powerful immunity boost and should be consumed at least 1 - 2 times per day.
Return Home from this Amazon Cherry Smoothie Recipe
---
Quick Jump: Select any review then press Go:
Not What You're Looking For? Search My Site