My Website Case Study:
This page is a continuation of the About Me page:
March 23, 2011 case study update: (Note: All future updates will be published below. Bookmark this page for future reference.) This is the first update of my ongoing case study on building a successful theme based website.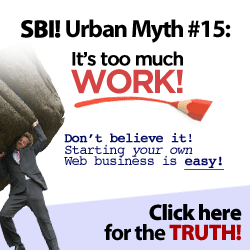 If you have considered building a website to earn extra income or to drive traffic to your existing business, I hope the details that I provide here on the success of my site help you make the best decision.
--- Side Note ---
Building a truly successful website that will eventually replace your income does not happen overnight. Most Get Rich Quick schemers want you to forget this aspect of building a solid business.
--- Side Note ---
I launched Juicer Reviews and Recipes in January 2010 with the idea of building a website around something that I really enjoy doing and have slowly added new content on my free time. Working a full-time job and moving to a new state have kept me busy enough.
The beauty of building a site like this, is that I can take my time and add pages only when I am up to the challenge. So far, I've added 25+ Juicer and Blender reviews and have about 50+ reviews completed and ready to be posted soon. I am on track to have my 2nd best month in traffic overall, with visitors from over 55 countries averaging around 50 readers per day.
You are probably saying, "50 readers per day does not sound like much," but it is pure organic growth and a long ways away from the 2 readers per day that I started with in APR 2010. All 100% free traffic from Google, Yahoo, and Bing and my site traffic is trending upwards over the last year by 2500% (2 visitors per day in APR 2010 to 47 visitors in MAR 2011). See my traffic stats below:
A view of my actual traffic statistics from April 10' to March 11'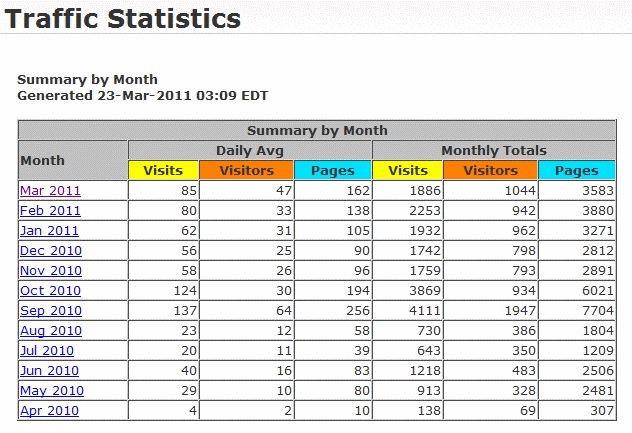 Note: If you notice, the site had a traffic spike in September 2010; I published the master cleanse diet section and tested out pay per click (PPC) advertising campaigns to drive additional traffic.
Visual chart of my traffic growth from April 10' to March 11'
The following column chart is a visual representation based on the traffic statistics report shown above. This helps you see the actual growth in monthly traffic over the last year.
---
Case Study Update: September 10, 2011
With the explosive growth my website has seen in the last 5 months, I thought it would be good to give you a quick update. Compare the "visitors" column of March 2011 versus August 2011.
You can see that in 5 months, the visitor traffic has increased by at least 300%. In other words, I'm now enjoying 3 times the amount of traffic I received in March 2011.
--- Side Note ---
I think I'll break a few of Google's rules if I disclose the actual figures, so I'll leave them out for now but...My adsense revenue is now making in 30 days what it use to make in one year!!! WOW! Talk about some extra motivation to keep going.
--- Side Note ---
Currently, I've posted over 50 juicer reviews and 25 reviews of the best blenders. I'm also putting more effort into posting more juice and smoothie recipes, juice bar reviews, as well as a few exclusive eBooks and new articles to increase awareness of the health properties of natural foods.
Tip: Bookmark this page for future updates. I plan to post my next update sometime around January 2012.
---
As I mentioned above, I learned how to achieve this type of free traffic growth to my website mainly by following SBI's 10-Day Video Action Guide, its powerful. Be prepared to learn something new!
The education starts immediately, you begin to understand the BIG picture and how quality content is the most important aspect of building a successful site. If you don't know what type of website you want to build, SBI will walk through steps to help you choose the most profitable theme. This is how I found the "Juicer Review" theme.
Have a Question? If you're thinking about jumping into the world of SBI and building a Real business, make sure all of your questions are answered first! Please don't spend your hard earned money on this product if you are not 100% sure of the potential results or if its right for you!

Ask A Question Here
If you want to learn more about SiteSell.com's "Site Build It!" or SBI!, watch this cool video and check out some of the links below:
Why I am having more fun at work now:
Click Here to Read more Site Build It! Case Studies
---
Read more case studies...
My website is not as successful as these folks sites are (yet), but here are some short testimonials from real SBI! customers whose lives have been changed by Site Build It!. This is what inspired me to get started.
"My goal was to build an online business that would generate an income equal (or greater, of course) to the salary I was earning. And also wouldn't be dependant on any country's economy (as my country's economy is in shambles...)."
~ Elad Shippony
coolest-parties.com
Click here to read the full case study for Elad's coolest-parties.com
"SBI made it easy to learn how to optimize my pages for search engines. I quickly learned (actually SBI! took me by the hand and made the process "artist-proof"!) how to build traffic right into the content I was creating... as I created it."
~ Marney Makridakis
Artella Words And Art
Click here to read the full case study for Marney's Artella Words And Art
"Thank you again for all you have done to develop SiteBuildIt. It has made a tremendous difference in my life. I have a hand-built site, costing almost nothing, and making $10,000 MORE per MONTH."
~ Dr. John Burch DDS
DrBurch.com
Click here to read the full case study for John's DrBurch.com
---
Thanks for reading my ongoing case study update. Bookmark this page to follow the progress as I post future updates or subscribe to my occasional newsletter to receive blog posts, product reviews, juicing recipes, and tips.
Click Here to Read Even More Site Build It! Case Studies
Return Home from this Case Study