Da Juice Bar Los Angeles California
by Lisa
(Salt Lake City, Utah)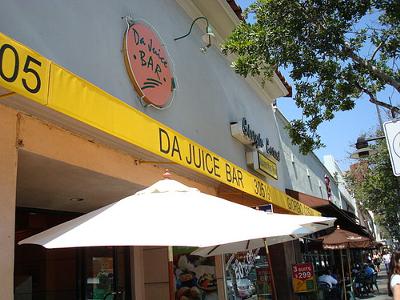 Da Juice bar is one of the few things I really miss about Los Angeles. I visited LA last time in January 2011 to meet my brother and his family. We enjoyed a lot there, visited beautiful places, shopping, parks and so much more. But when it came to food, I was really not that happy. I am very finicky about my health and so about my food. Every single thing I drank or ate outside, felt alien to me, really didn't like the taste. So I preferred eating at home until we went to Da Juice Bar.

It was such a refreshing experience for me after not eating well for so many days. I tried a few of the vegetarian options and my all time favorite was their garden burger combo. In the combo, you also get a nice tasty homemade vegetarian soup or the option of freshly squeezed juice or smoothie. I liked it even better because of their affordable price; it was less than $7.

It was the first time I tasted fresh veggie juice there and I loved it too, especially their veggie cocktail, with a splash of lemon. It was the best. They have juices, smoothies, good variety of sandwiches, salads etc. I must say it is the best healthy spot in the area. One thing which was really prominent was the freshness. Juices, smoothies, leafy salads… they all were extremely fresh.

Other than the food I also love the ambiance. Inside it's very well decorated with nice soothing colors and there is glass between the kitchen and dining area so you can see the chef working, preparing your food in a nice and clean kitchen. They have an outside sitting area too, with shaded outdoor tables. I would actually sit there for at least 30-40 minutes while having breakfast or a late lunch reading or just relaxing.

You have to love a friendly and welcoming staff that takes really good care of their customers and takes extra interest that everything is fresh and up to the mark.

Da Juice Bar is great if you are health conscious and watching what you eat or just want to try something different. You can order just about anything on the menu without worrying, as everything they make is fresh and healthy.

A few other highlights for me: The 1oz. shot of Organic Wheatgrass for only $1.35 and the Watermelon / Strawberry Fruit Juice Cocktail!

Join in and write your own page! It's easy to do. How? Simply click here to return to ADD a Juice Bar.
---
Quick Jump: Select any review then press Go:
Not What You're Looking For? Search My Site