Free Fruit Juice Recipes and Smoothies
"Your source to find and share reviews and recipes!"
Free fruit juice recipes, free smoothie recipes...and more...share your favorite with us. Here are some of my personal favorite if you plan on juicing with apples!
Submitting your favorite recipe is simple. Click here to share your favorite juice or smoothie recipe with other visitors to this page!
Once your recipe is reviewed for quality, I will publish it and link back to you (optional), sending friendly traffic your way!
Include a website address (note: the link will not go live until the profile is approved)


Add your comments to other recipes already listed


Please spell check your review first in another software before submitting it


Feel free to include a picture or logo


Remember to include an email address so I can notify you when comments are posted on your profile or review (if you want to be contacted)


Be original, create provocative and captivating titles to grab attention!
Share Your Favorite Juice and Smoothie Recipes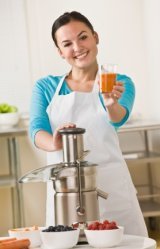 Looking for free juicing recipes?
Love juicing apples and have the perfect combination of fruits and veggies? This is the place to share your favorite juice or smoothie and get fresh ideas from other visitors!
Share your favorite variation of the best Jamba Juice or Booster Juice Recipes.
Have a juicing website or blog? Be sure to post your link, I will be sure to link back to your site! The best rated recipes will get featured on my home page and newsletter! Be sure to sign up to get the updates!
Just plug in the ingredients and add an optional photo and you are all set! Let other visitors try your recipe and rate it 5 stars!
---
Quick Jump: Select any review then press Go:
Not What You're Looking For? Search My Site