juicer reviews and recipes
More Super Juice, Michael Van Straten, 2007
"Your source to find and share reviews and recipes!"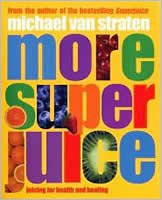 More Super Juice is Michael Van Straten's follow up to his bestselling book Super Juice. Creative, colorful, and simple, this book does a great job at capturing the imagination while informing you on the multitude of benefits received from juicing fresh fruits and vegetables. Michael also knows a bit about Chromotherapy -- the colors used are soothing, healing, calming, energizing, and vibrant. You will enjoy flipping through this book, letting your eyes gaze as you meditate on the colorful pages.


What's Great About It?
The Design:
Paperback, 9.1 x 6.9 x 0.7 inches, 144 pages, and light. Great for travel.
Images: colorful, artful, stimulating. Well done.
Presentation: Each page is dedicated to one recipe. Very clean and intuitive layout, making the recipes in this book easy to follow.
The Content:
The super juicing recipes are sub-categorized by desired type, outcome, or purpose (i.e. power juices, memory juices, slimming juices, etc.) Allowing you to quickly flip through each chapter finding your favorite recipe.
The "drink yourself better tables", a reference point, helps finding the perfect juicing recipe to address a specific health condition (i.e. weight loss, anxiety, depression, bronchitis, etc.)
The detox section provides 24-hour detox plans for energy, radiance, brain boosting, and total cleansing with complete menu items. All you have to do is provide the fruits, vegetables, and motivation to commit to a day of health. Michael recommends that you do this on your day off so you can kick your feet up.
What's Not-So-Great About It?
The "total package - all you need is this book" claim, lands a hair short in my opinion. A total package nowadays would mean access to a website (dedicated to the book) providing even more information, resources and updated content. So to compliment this cool book, visit Michael's site for more recipes, tips, and information on health and well-being.
The recipes are contemporary and tasteful, offering great variations on classic themes. Each recipe includes a helpful "vital statistics" section highlighting the health benefits of the fruits and vegetables used in the recipe.
Not a deal breaker by far, but the vital statistics could offer more nutritional information on each ingredient used. After all, it's hard enough trying to remember the benefits of kiwi, broccoli, radishes, and all of the other amazing fruits and vegetables used in juicing. Repeating the benefits would be a slight refinement -- adding to the "total package" that More Super Juice offers.
Overall:
Regardless of your experience with juicing, More Super Juice is very resourceful and a highly recommended read. Michael Van Straten's experience and knowledge on the topic makes him a trusted expert while his down-to-earth approach to writing gives him the ability to communicate with any reader.

Whether you're ready to get started on your journey with juicing for life or interested in expanding your knowledge, you can purchase More Super Juice
from Buy.com
or Amazon.
Return to the top of More Super Juice
Return from More Super Juice to explore more Juicing Books
Return from More Super Juice to Juicer Reviews and Recipes homepage
---
Quick Jump: Select any review then press Go:
Not What You're Looking For? Search My Site

My Newsletter
---
---