Tank Juice Bar Auckland New Zealand
by Patrick
(South Africa)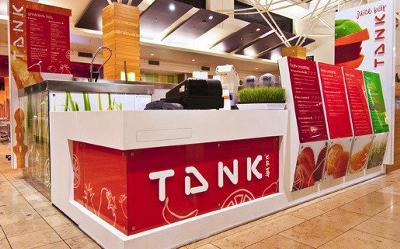 On my last business trip to New Zealand, I tried the really famous Tank Juice Bar. While writing this review I still taste their amazing smoothies in my mouth. Yum! I have visited many countries on vacation and for my business and so I have tasted food and drinks from all over. Tank Juice Bar is one of my all time favorites.

They offer you a fantastic range of delicious juices and smoothies that are so good in quantity that you can make them a complete meal. I remember being so busy with work that I used to go there for a big full size smoothie and which was just enough for me.

I am sure they must have a lot of branches but the one I am talking about is situated in the food court area of Westfield 277 Newmarket Shopping Centre in Auckland. All their items are freshly made in front of you and you can even taste the freshness; one reason why it is one of my favorites.

I love their mango shakes, really out of this world. They have an excellent selection of fruity fresh blends and big huge servings of fruits to try and everything is prepared right then and there. So you can easily personalize it according to your taste.

They also have outstanding types of coffees; I have never tasted such fantastic, coffee in my life. It must be locally harvested coffee or imported somewhere very close to the island of New Zealand. Amazing stuff; all worth trying and is a total value for the money.

I will highly recommend Tank Juice Bar to all reading this review. It's a really healthy option compared to the usual cokes, energy drinks and processed juices that have little to no nutrition. Give yourself a vitamin boost!

Join in and write your own page! It's easy to do. How? Simply click here to return to ADD a Juice Bar.
---
Quick Jump: Select any review then press Go:
Not What You're Looking For? Search My Site