The Hurom Slow Juicer - Hurom HU-100 Review
"Your source to find and share reviews and recipes!"
The Hurom Slow Juicer is an attractive juicer that is so quiet when operating you would barely know its producing great tasting juice.
Top Features and Benefits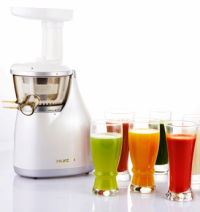 What you're paying for:
1. Duel stage extraction system to provide dryer pulp
2. 2 - 50 ounce juice cups
3. 10 year warranty
4. Attractive design
5. Self-cleaning feature
6. Utilizes a low speed technology system
7. Quiet operation
8. Includes fine and course screens
Pros Vs. Cons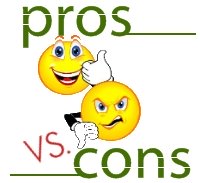 Pros
1. Produces dry pulp
2. Very quiet
3. Looks great and takes up less room on counter
4. Good price
5. Juices quickly
Cons
1. Customer service from manufacturer is less than stellar
2. Does not juice soft fruit and wheatgrass that well
3. The plastic accessories break easily
4. Pulp can be found in the juice
5. Not as easy to clean as listed features lead you to believe
What You Can Expect to PAY
Conclusion: The Hurom HU-100 Slow Juicer produces some great juice and produces dry pulp, luckily it is durable enough that you rarely need to call their customer service department! Who knows, maybe the Hurom is selling so well, they cannot handle the demand.

Best of luck Hurom! You guys make a great juicer, we are all waiting to see what else you come up with in the future!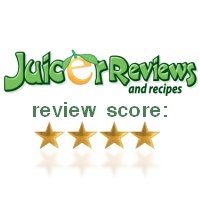 Based on my research and compared to similar juicer models available, this juicer receives a 4 out of 5.
If you decide to purchase this juicer, here is what you can expect to invest and some of the best places to purchase online:
Amazon: Hurom HU-100 Slow Juicer, Snow White
Juicers)
Average Price: $359.00
---

Already own a juicer or blender?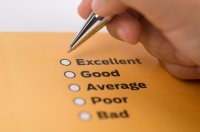 Want to share your experience and personal opinion about it? Hundreds of visitors stop by my site everyday looking for info to help them decide on the best model. What's your story? It might be exactly what someone is looking for to make their buying decision.
ADD a Review on the juicer or blender you just purchased, or the one you have been using for years. Tell us some of your favorite or least favorite features. Most importantly, would you recommend it?
Thanks for sharing with Juicer Reviews and Recipes visitors and making the web a better place! Click here to ADD a Review to this site.
Newest Posts by You:
---
More Juicer Reviews
Return Home from this Hurom Slow Juicer Review
---
Quick Jump: Select any review then press Go:
Not What You're Looking For? Search My Site